Review of Angel Dreams by Jody Kessler and GET-TO-KNOW-YOU
Hello all!
I finished reading Angel Dreams on vacation last week...absolutely lovely...here is my review:
I jumped right into this book without having read book one (which I'm DEFINITELY going to do) - I spent a week on my first vacation of the summer being swept away with Nathaniel and Jules. They were both incredibly well-written and strong characters with so many obstacles in their way, it's a small miracle every time they are together! The first 1-2 chapters were an ethereal world of love and then BAM - the author hits you with a dramatic scene that kept me picking up this book every day until the end. I will read more from this author!
Now let's get to know Jody:
Thanks for blogging with me on Quill or Pill.
1. How would your mother describe you in one word?
2. What is your favorite flower?
Calla lilies - particularly the wine or purple colored varieties.
3. What is the most insane question you've ever been asked?
Who is your favorite author? – Is it possible to have only one?!
4. What word in the English language do you wish you had invented?
5. Where would you like to live?
I love where I live now. Colorado has been my home for most of my life. I've lived in the Midwest and in California as well, but I feel comfortable in the mountains. I also dream about living in Europe, Montana, Idaho, and the Northwest coast. I've traveled quite a bit and I could really see myself living in the UK. Staying open to new adventures and experiencing new places is important to me, but I would definitely not want to live on the road – like in an RV. I need a real house on a piece of land.
6. What is the first quote that comes to your mind?
"How doth the little crocodile, Improve his shining tail
And pour the waters of the Nile, On every golden scale!
How cheerfully he seems to grin, How neatly spreads his claws,
And welcomes little fishes in, With gently smiling jaws!"
I hoard quotes from Alice in Wonderland like others hoard chocolate. I actually love quotes and read them often.
7. What animal best describes the kind of boy you'd be interested in?
Wolf.

I pick wolf because I appreciate intelligence, leadership, and a good sense of family values (pack instincts). Wolf people make excellent teachers and often have strong personalities. This just about sums up my hubby, who coincidentally has Wolf as part of his tribal name - he's a registered Shawnee Native American. As a side note, I don't call him by his tribal name because I'm not Shawnee. I call him John as do 99.9% of the people we know.
8. What do you miss about your childhood?
Ice cream trucks, roller skating down the sidewalk, and playing at the pool all summer. — It must be January outside. The only memories coming to my mind right now have to do with sun and playing outside.
9. What is the main fault in your character?
This question is sort of in the same category as "Who is your favorite author?" Do I really have only ONE main fault? But, since you asked for one, then I'll say that I am intolerant toward the faults of society and I handle it by rebelling or turning a blind eye — most of the time. I like to hide out at home in the mountains and ignore the people and problems of the world. I know this doesn't help anything, but I do it to maintain my own mental and emotional well-being. (However — I do vote and I do pay attention when I have to.)
10. Describe how you kiss in one word.
I should probably say passionate, but it's more like sweet.
11. What in the world do you least desire?
Competition. I am the least competitive person you'll ever meet. Honestly, I want everyone to do well. I don't enjoy most competitive sports, and being around extremely competitive people makes me uncomfortable. I've always been this way for as long as I can remember.
12. Why do you think most boys date you?
I guess I'm just totally irresistible.*cough* I'm totally kidding. I haven't dated in so long that I really don't remember. I would hope that a potential date would find me interesting and fun to be around.
13.
Finish this sentence: "Happiness is a thing called…"
Where there is peace, there is happiness. Let life flow where it wants to. Swim with the current, not against it, and see where it leads. I bet it will take you somewhere amazing.
Thanks Jody - let's hear more about the book!
Supernatural boundaries will be crossed as Angel of Death, Nathaniel Evans, risks his eternal soul to save the one he loves, the paranormally gifted and nature-loving, Juliana Crowson. While working with a new client, Nathaniel finds out that pissing off a demon-wielding warlock in order to help a suicidal teen with misplaced sexual tendencies may be the last thing he ever does as an angel. Unable to stand aside, Juliana's involvement in Nathaniel's new case quickly develops into a misadventure with gun-toting bikers, table dancing, and a shamanic exorcism performed by her temperamental Native American friend, Chris Abeyta. Can Nathaniel and Juliana's love endure blood-letting rituals in the forest while helping a terrified teen find the will to live, or will fate and the rules of the afterlife tear them eternally apart?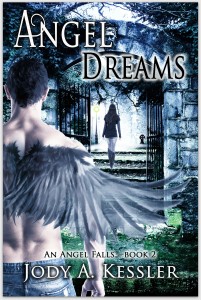 Read an Excerpt
from the Novel
"Are you sure I shouldn't be worried about something?" she asks again, her green eyes penetrating my soul, looking for some clue. I sigh heavily.
"Only death, Mom. It comes around for everyone, you know."
"Not funny, Jules." She scowls at my bad joke. "I'm going upstairs. Nice to meet you, Nathaniel."
I wish I was being funny.
I walk into the kitchen, not really caring if Nathaniel follows or not. Mine and Jared's survival seem like the only important thing in the world at the moment. As soon as I hear Mom's bedroom door close, Nathaniel steps up close.
So close we are almost touching.
He whispers, "I'm sorry. I'm sorry about Travis, and for causing you any pain. You've done everything. You saved Corrine, Juliana, and I wouldn't be back to normal — if you call this normal — without you. You're amazing. I don't deserve to be here with you. And you still let me in."
His face is a mask of torture and I want to erase all the terrible things we have been through, but I can't. All I can do is stand here, surrounded by his warmth, his smell, and his caressing voice. It's the most comfortable place I've ever known, and the most agonizing. I have to work at forming any words at all. "I had to do something. If it wasn't for me, you wouldn't have been killed in the first place."
"I don't want to start arguing again, Juliana. I shouldn't even be here now. You should run away from me."
About the Author
When Jody isn't navigating the terrain of her imagination and writing it down, she can be found exploring the wilderness of Colorado with her family, or in the kitchen baking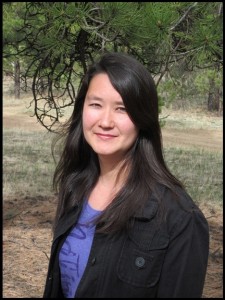 cookies & brownies - and then trying not to eat them all. She's passionate about continuing to learn and reads anything and everything that catches her interest. Jody is a full time mom, a Reiki Master, and has taught Hatha yoga for over a decade. Jody's debut novel,
Death Lies Between Us
, is the winner of RomCon's Readers' Crown award for best Paranormal Romance in 2014. She is currently working on a historical time travel series set in Montana in the 1860's. The first book in the series,
The Night Medicine,
will be published in March 2015.